Can You Fly With CBD?
Search for or select an airport below to find current regulations and responses* from local police.
*This tool is being updated regularly as responses are received.
You depend on CBD for daily functioning, clarity, and relief. Basically, CBD has become a part of your routine.
But today you're taking a trip that involves a flight…
Will CBD make it through the necessary security screening?
Will you have trouble crossing international or state lines? What about law enforcement throughout the process?
Are you going to be arrested and/or embarrassed in front of everyone at the airport?!
Each of these questions (and more) has likely crossed your mind – and that's okay!
Here's the simple answer: if you're flying domestically, TSA allows you to bring hemp-derived CBD with you on your flight. Things aren't as clear with local police departments.
Below, we'll dive deeper into the details about flying with CBD derived from hemp plants and hemp products, along with exploring information about international flights and traveling with other cannabis products.
Is Flying with CBD Legal According to Federal Law?
Before passing through any security screening procedures, it's helpful to know the facts. According to the 2018 Farm Bill, hemp-derived CBD and other hemp products like supplements are now legal – on a federal level – in the United States.
Under this law, CBD containing less than .3% THC and derived from hemp plants – not marijuana plants – can be transported across state lines, via automobile or airplane.
Before bringing it on an airplane, you must be sure of the origin of your CBD and its level of THC. This means purchasing from a reputable supplier – which is always important, not just when flying – matters greatly.
The Transportation Security Administration (and, as a result, TSA security officers as well), fall under the Department of Homeland Security: a federal agency.
While you may receive questions about your CBD, under law, you are protected and have the right to fly with it.
Because CBD is often in liquid form, it is still subject to the TSA's carry-on liquid rules.
This means the 3-1-1 rule that applies to any liquid you may fly with applies.
This rule allows containers of liquids that are 3.4 ounces or less that fit in a 1-quart plastic bag to pass through security in a carry on for each individual flying.
While exceptions are made for breast milk, medications, and other liquids, CBD is not one of them. Treat it like you would any other liquid in your carry on.
Because TSA officers are able to search luggage and ask questions, you may be asked about the contents of your bag. Answer freely and with confidence; hemp-derived CBD products are legal on a federal level.
Stressed about the regulations? Storing your CBD in your checked bag – providing you won't need it during the flight – may be in your best interest.
What About International Flights With CBD Oil?
While passing through TSA officers and screenings for domestic flights should not pose a problem, flying internationally is a different situation.
While you may pass through screenings before your flight if you leave from the United States, you could face legal trouble in countries where CBD is not legal.
Below is a list of countries that have legalized CBD products. It's important to understand that looking into the laws of each country is important, as there are different regulations pertaining to the source of CBD and the amount of THC permitted in the products you carry.
Argentina
Austria
Belgium
Belize
Bulgaria
Canada
Chile
China
Colombia
Costa Rica
Croatia
Cyprus
Czech Republic
Denmark
Estonia
Finland
France
Georgia
Germany
Greece
Guam
Guatemala
Hong Kong
Hungary
Iceland
India
Ireland
Italy
Latvia
Lithuania
Luxembourg
Malta
Netherlands
Antilles
Norway
Paraguay
Peru
Poland
Portugal
Puerto Rico
Romania
Russia
Slovakia
Republic of Slovenia
South Africa
Sweden
Switzerland
Virgin Islands
United Kingdom
Uruguay
Flying with hemp-derived CBD oil should not be problematic on international flights to the above countries.
Domestic TSA Guidelines For Flying With CBD Oil In The United States
Whether you're flying to California, to New York, to Maine or to any other U.S. state, your CBD capsules, tinctures and oils can accompany you in both checked and/or carry-on bags, as stated above.
If in liquid format, the 3-1-1 rule, also mentioned above still applies.
Here are a few other tips and tricks to keep in mind as you prepare to pass Transportation Security Administration rules and regulations:
Ready? Great! Now… about those TSA security dogs…
Will I Raise Any Alarms? Can TSA Agent Dogs Smell CBD Oil?
While TSA dogs may seem intimidating as you wait to pass through security or board your flight, they are not worried about your CBD. Primarily, they are there to sniff for drugs and potential weapon-related materials.
However, because CBD may contain trace amounts of CBD, there's a slight chance the dogs could confuse the product with marijuana. This is why traveling with clearly labeled hemp-derived CBD oil is absolutely essential.
Can I Use CBD Oil On The Flight?
What about during the flight… Can you use CBD products in the air?
Simple answer: YES!
Providing you do not plan to vape the CBD oil, you can use CBD capsules, tinctures and other products during your flight.
Some people actually find relief from muscle pain and cramps by applying CBD lotions and ointments topically, especially during longer flights.
What About Other Cannabis Products And Medical Marijuana?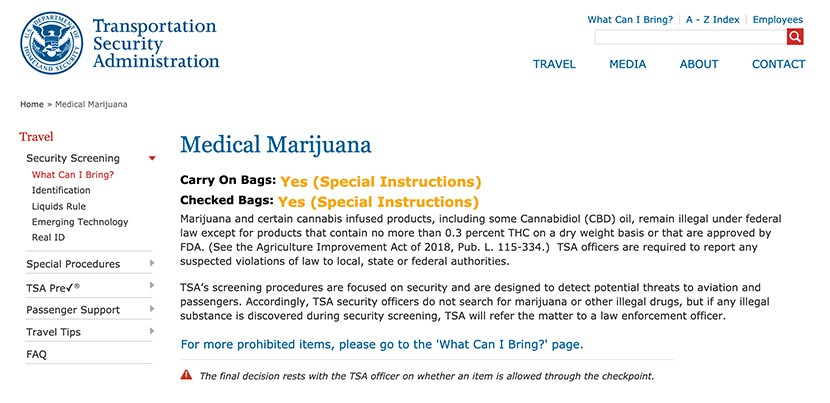 While hemp-derived CBD oil containing less than 0.3% THC is legal under federal law and the Food and Drug Administration (as a supplement), making it legal to carry on domestic flights, CBD derived from the marijuana variety of the cannabis plant is still considered an illegal substance.
As you can see from the TSA's official website image above, medical marijuana – even for those with prescriptions, and recreational marijuana is banned as an illegal drug for all air travel, concordant with DEA laws. If you're caught with it, you could be charged with possession of marijuana, which we'll cover below.
The TSA language includes CBD when derived from the marijuana plant, or infused with additional cannabis compounds (like THC). It cannot be carried onto flights or stored in checked baggage.
What If I'm Caught With Non-Hemp Derived CBD (Or Marijuana) On A Flight?
While the TSA language makes it clear that the Security Administration's officers are focused on security to detect potential threats to aviation and passengers, it is possible that it could be discovered during air travel, which would be considered a violation of law.
If caught, the TSA would refer the matter to law enforcement in the airport of question. In that case, you would be subject to state consequences if discovered before the checkpoint, or federal consequences if discovered after the checkpoint.
The bottom line? Even in airports (like LAX) that have legalized carrying marijuana on to flights, federal laws contradict this. It's best to leave medical and recreational marijuana at home.
In conclusion, traveling with CBD derived from the hemp plant is considered legal when it meets specific regulations. As a best practice, be sure you're flying with clearly labeled hemp products and only the purest CBD from the most reputable brands.
At the end of the day, you can cool your jets… you'll be fine bringing your favorite CBD products on your next trip.